As I said, yesterday Matt I also shopped at our local book store and Goodwill before CVS.
Here's what we got at the book store.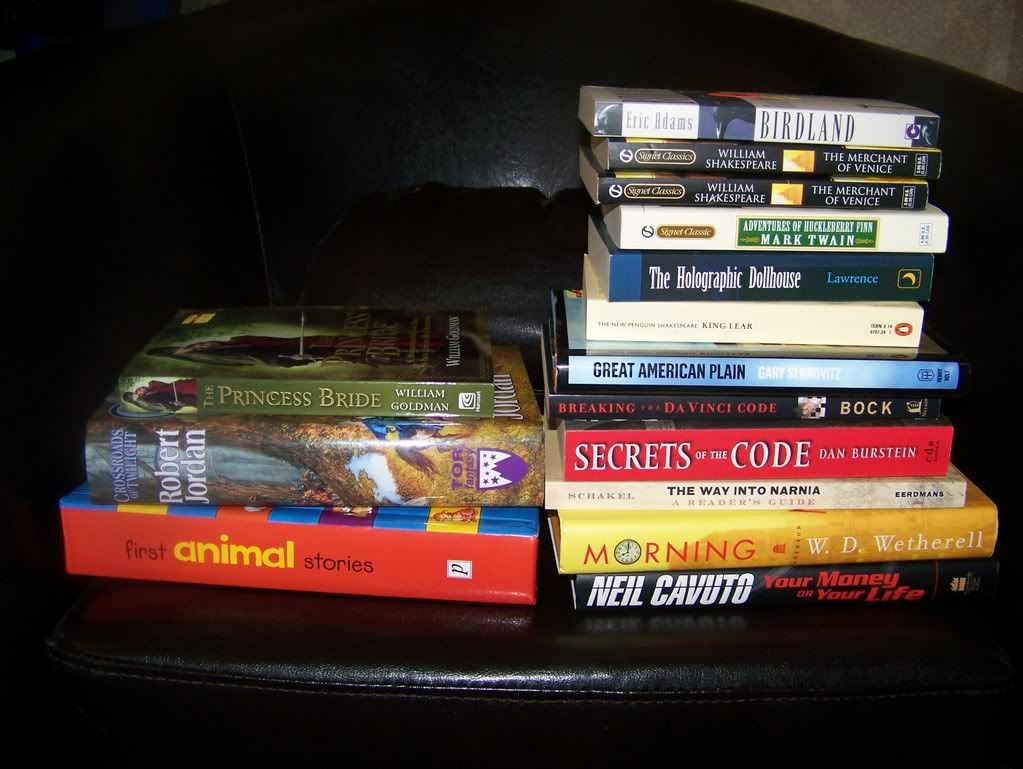 All year long our Bargain Books has a whole section of their store with books for $1. Every year on the 4th of July they have a 50% off sale. It's a great spot to find new authors and who can pass up $.50 reading material? We ended up with 15 books and spent
$15.35.
Most of the books we purchased were $.50 – all the ones on the right (12 in total). I did pick up a couple extras for Christmas gifts and Matt found a book in the series he's reading (3 on the left). During this sale you really have to judge a book by its cover, but in the past we've been successful at finding good reads. Last year we spent over $80 on this sale.
I picked up the book on the bottom "Your Money or Your Life" by Neil Cavuto thinking it was another by a similar title. I still plan to read it and then list it on

since someone is waiting for it. This year by being a little picky and mainly sticking to the $1 table we were able to make a good sale great.
After loading up on books we stopped by the Goodwill next door to look for fabric. I really want to start sewing this summer but I hate paying full price for vintage looking fabric only to waste it if I make a mistake. In the craft blogs I read I've found many people are hunting for old sheets at thrift stores. I decided to give it a shot knowing that it would be hit and miss.
I picked up three very large pieces of fabric in patterns I really like. Not as "vintage" as I was hoping for but a great price as I paid only
$4.97
total for everything pictured. Less than the cost of one yard of fabric at my local JoAnns. Now I just have to figure out what I'm going to make with them. If only I would have picked up a sewing book at the sale :)
Overall for my whole day of shopping on the 4th (Goodwill, CVS, & Bargain Books) we only spent
$21.40.
So much better than anything we would have done in the past and all we had to do was shop smartly.