My box of freebies is spilling over so I'm sharing what I received over the last two weeks.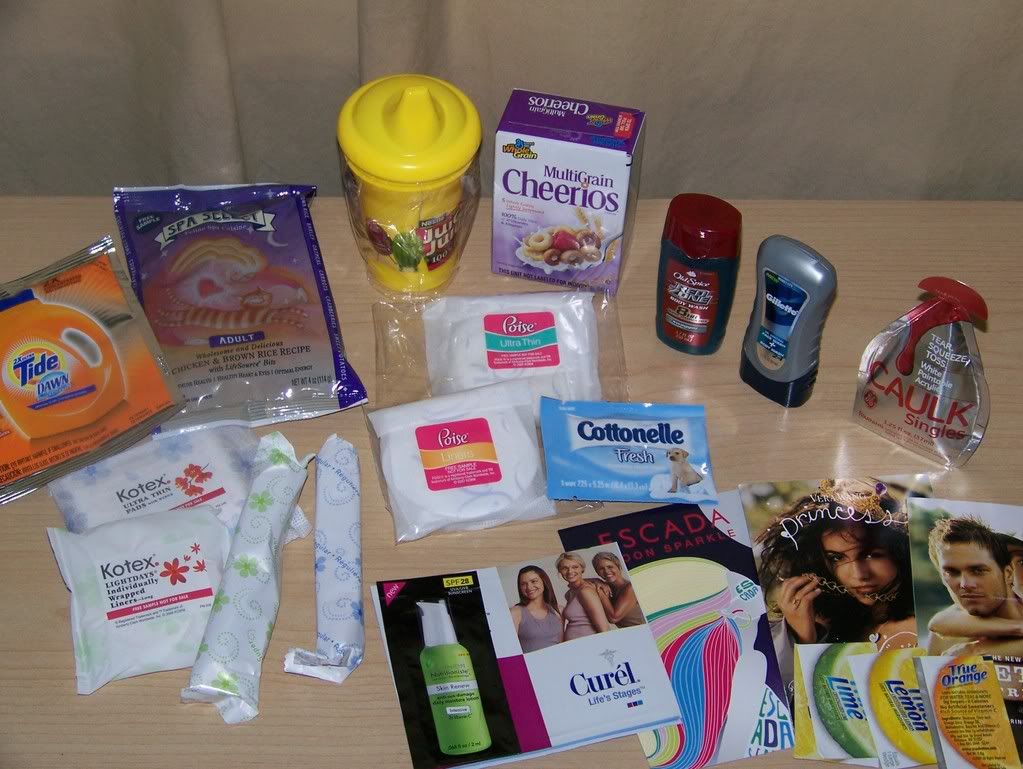 Freebies with Coupons (not shown)
Kotex sample

Escada Moon Sparkle Perfume
True Lemon, orange, and lime sample

$.40 on any true lemon lime or orange


Stetson Fresh Cologne sample
Curel Lotion


$1 on any Curel Moisturizer


Garnier moisture lotion

Poise personal cleansing cloths & Cottonelle flushable wipes

$1 on Poise Product
$1 wyb 2 Cottonelle fresh wipes


Juicy Juice sippy cup (for when the family visits)
Spa Selects natural cat food

Healthful Life Cat Chow (not pictured)

$1.50 on 3.5lb or larger bag


Tide with Dawn Stain Scrubbers

Vera Wang - Princess perfume
Multi Grain Cherrios
Caulk Singles
Old Spice - Red Zone Body Wash

Gillette face & Body wash

Pup-Peroni (not pictures - B.P. has already enjoyed)


$1 on Pup-Peroni dog snacks
Just Coupons
FREE country Bob's all purpose sauce
Purina Packet

FREE can of Mighty Dog
Buy 4 can of Mighty Dog and get 1 FREE


Purina One (30 Day challenge)


1 FREE bag 4lb or smaller dog food
1 FREE bag 3.5lb or smaller cat food


$5 & $1 Luvs diapers (for next giveaway)

Huggies coupon pack - I'll probably put these in my next coupon giveaway

Save on diapers, wipes, and body product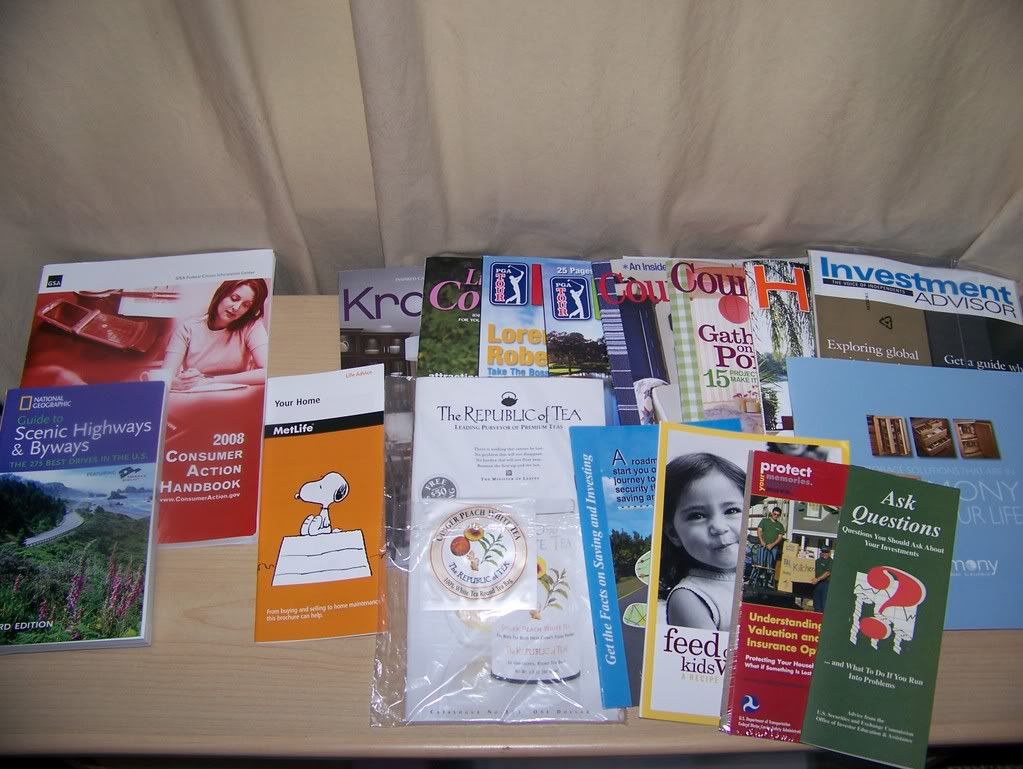 Magazines – Reading Material
- Understanding Valuation and Insurance Options (protecting your home)
- Feed Our Kids Well from Ragu – recipe book
- The Repbulic of Tea magazine (with free tea sample that sounds amazing)
- Guide to Scenic Highways & Byways (I might end up listing this on

)
- 2008 Consumer Action Handbook
- Your Home – MetLife pamphlet (will come in useful if we do sell our house)
- Harmony – Storage Solutions (much needed for this house and a possible apartment)
- Investment Advisor (free subscription from work – don't ask me why)
- Home - The Remodeling & Design Resource
- Country Home (June & July/Aug editions)
- 2 Partners magazines
- Living the Country Life
- Kraft Maid idea book (extra handy if we stay in our home)
One day I'll post what I do with all these free magazines once I've read them and taken all the free coupons…. Of course.
If I continue to receive this much stuff each day I'll have to start updating weekly.