While our CVS trip didn't turn out that great we did find some amazing deals at Meijer.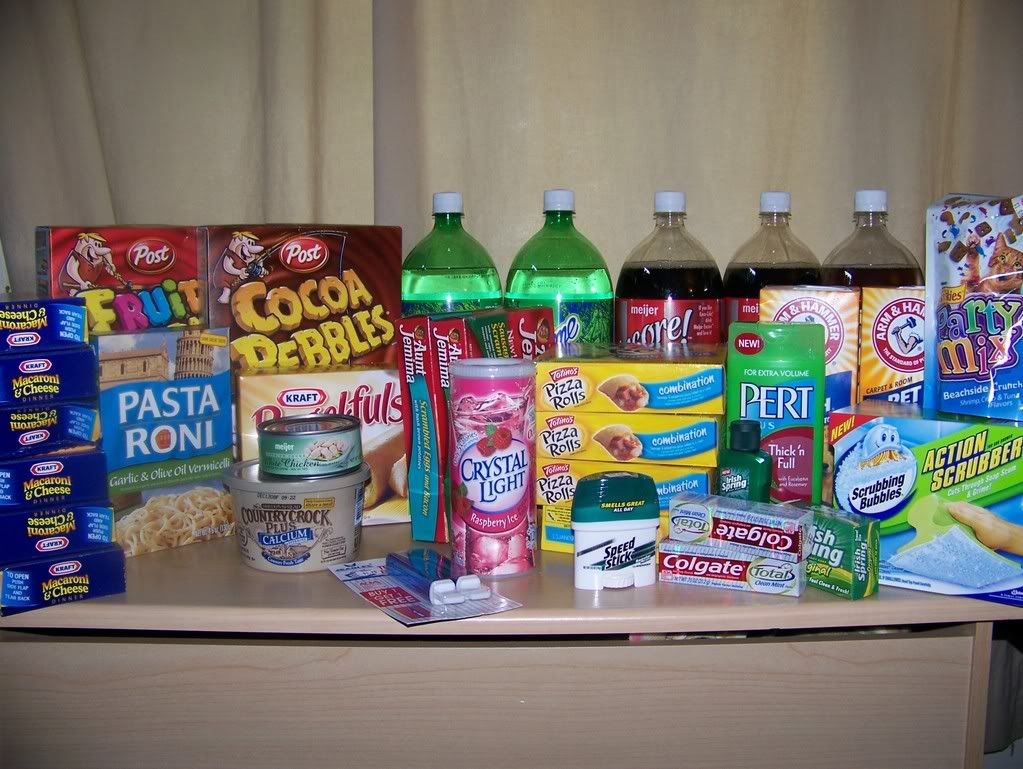 All this for
$25.37 (a 56% savings)
and I have a $5.29 rebate and received another $5 off my next order coupon so really its more like $15.08 out of pocket.
::Purchased::
5 Meijer cola (@.85) $4.75 (including deposit)
6 Mac & Cheese B3G3 $2.22
Buy 3 Kraft Products get a FREE Crystal Light drink mix
BagelFuls $1.67
2 Post Cereals
$1 wyb 2 Post Cereals
Buy 10 for $10 get 11th item FREE
Pasta Roni $1
$.50 off one Pasta Roni
(doubled)
4 Pizza Rolls $4
(2) $.40 off two pizza rolls
(doubled)
2 Arm & Hammer Room Deodorizers Pe
t
(2) $1 off one Arm & Hammer Deodorizers

Tuna Fish
2 Aunt Jamima Breakfast Meals $2
Country Crock Margarine $1
11th FREE item
PERT Plus $2.50

$2 on Pert Plus Better deal than CVS

Scrubbing Bubbles Action Scrubber $5.29
FREE Action Scrubber
Friskies Party Mix $1.98
FREE Friskies party mix
Travel toothbrush (2 pack – vacation coming soon) $1.29
Buy 5 or more Colgate Palmolive items and Save $5 on next order
Irish Spring soap bar $.98
2 Colgate toothpaste $1.98
Speed Stick $1.07
Irish Spring body wash $1.17
(
Total: $5.20
Earned $5 off next order and all these trial size items to take on our upcoming vacation not bad for 20 cents. )
I also used a $4 off coupon from doing the Kraft deal last month.
I think this might be my best trip yet. I might even go back if we have time before leaving on Thursday.